Amazon lancia un nuovo entusiasmante prodotto che i fan di Star Wars non vorranno perdersi. Stiamo parlando dell'ultimo accessorio Echo Dot che sicuramente impressionerà: tre supporti unici ispirati ai personaggi del franchise di Star Wars.
Questi stand, con The Mandalorian, uno Stormtrooper e Darth Vader, sono più che semplici pezzi decorativi. Sono progettati per riflettere il bagliore naturale dello smart speaker per un effetto speciale che porterà il tuo amore per Star Wars a un livello superiore.
Il supporto è disponibile per $ 39,99oppure puoi abbinarlo a un Echo Dot (5a generazione) a soli $ 69,98e sarà disponibile su Amazon dal 4 maggio 2023. Inoltre, questi supporti sbloccano un nuovo effetto indicatore LED sullo smart speaker stesso.
Le luci a LED dell'Echo Dot ora brilleranno attraverso gli occhi e la visiera di Darth Vader, uno Stormtrooper o The Mandalorian. E se vuoi aggiungere un'atmosfera malvagia, puoi disattivare il microfono su Echo Dot per un bagliore rosso. Altrimenti, quando Alexa ascolta, brillerà di blu e verde per le notifiche.
Anche se questo prodotto non aggiunge alcuna nuova funzionalità al tuo Echo Dot, è un must per ogni fan di Star Wars. Se possiedi già un Echo Dot (4a o 5a generazione), puoi acquistare lo stand per $ 39,99 e scegli il tuo personaggio preferito. In alternativa, puoi risparmiare $ 20 raggruppando lo stand con un eco di quinta generazione, che normalmente costerebbe $ 89,98ma puoi ottenerli entrambi a soli $ 69,96 su Amazon.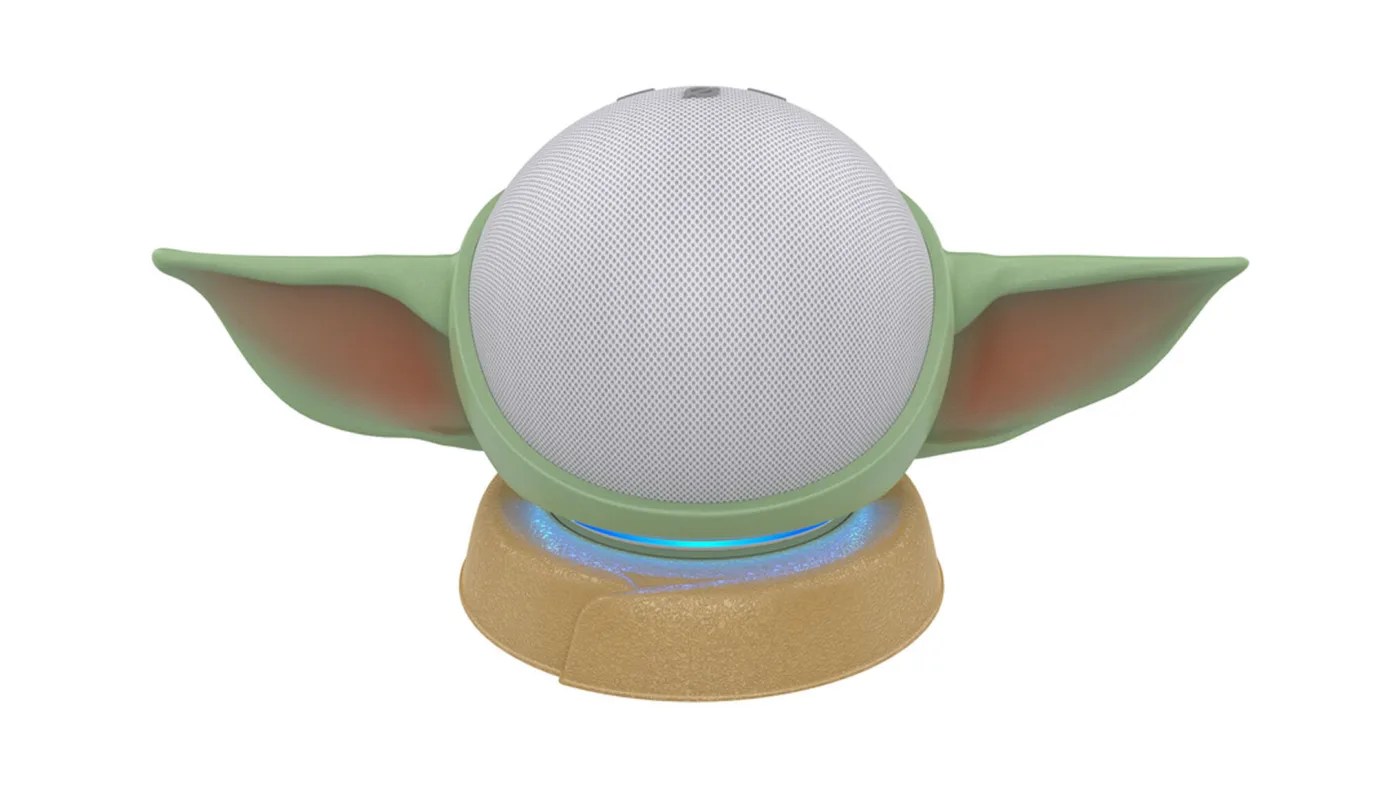 Se sei un fan dell'adorabile "Baby Yoda" o Grogu, Otterbox ti ha coperto con i supporti perfetti per il tuo Echo Dot, che si tratti della terza generazione o dei nuovi modelli circolari.
Per Echo Dot 3rd Gen, puoi ottenere The Child Stand per soli $ 12,45 (originariamente $ 24,95 su Amazon). E per la 4a o 5a generazione, puoi ottenere The Child Stand per $ 27,99 su Amazon.
Nel complesso, questi sono pezzi di tendenza che faranno sentire la tua casa come se fosse in una galassia molto, molto lontana, quindi non perdere questa opportunità per mostrare il tuo fandom di Star Wars
Alexa si unisce ai festeggiamenti con una curiosità
Alexa è pronta per partecipare alle celebrazioni di Star Wars questo 4 maggio: puoi mettere alla prova le tue conoscenze su Star Wars con un concorso a quiz, ascoltare una barzelletta o persino iniziare il tuo viaggio Jedi con Alexa. Basta dire "Alexa, inizia le mie lezioni Jedi" per intraprendere una divertente avventura a nove livelli o usare il trucco Jedi Mind per esplorare la Forza. Che la forza sia con te!