I fan di House of the Dragon hanno avuto difficoltà a godersi il settimo episodio ricco di azione dello show perché era scarsamente illuminato. Poiché gran parte di "Driftmark" si svolgeva di notte, intere scene di dialogo o di furto di draghi sono state lasciate nell'oscurità, con i personaggi che apparivano come macchie sfocate su uno sfondo nero.
Questa non è la prima volta che i fan del franchise de Il Trono di Spade hanno contestato l'illuminazione di uno spettacolo. "The Long Night", l'episodio 3 della stagione 8, è stato notoriamente criticato dai fan per essere troppo oscuro per essere guardato. Il direttore della fotografia Fabian Wagner ha accusato la compressione video della HBO , sostenendo che aggiungeva pixel e colori scuriti.
Dopo "Driftmark", episodio 7 di House of the Dragon , gli spettatori in onda ancora una volta si sono riversati sui social media per esprimere la loro frustrazione.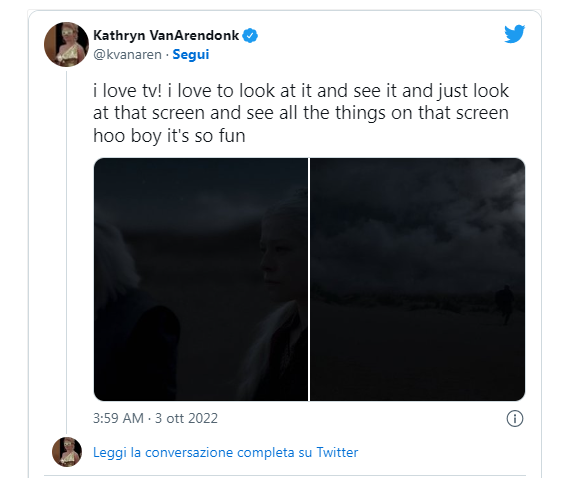 Gli spettatori si sono lamentati così tanto dell'oscurità dell'episodio che HBO Max Help Twitter ha dovuto riutilizzare una risposta più e più volte, dicendo ai fan che "l'illuminazione soffusa di questa scena è stata una decisione creativa intenzionale".
Non tutti i fan hanno vissuto la stessa lotta con l'oscurità, poiché l'episodio sembrava molto più chiaro sui televisori OLED. Tuttavia, se non hai accesso a una TV OLED, ci sono ancora alcuni trucchi che puoi utilizzare per migliorare l'aspetto dell'immagine.
Ad esempio, puoi utilizzare il metodo collaudato per spegnere tutte le luci circostanti e regolare la luminosità della TV per rendere più chiare le aree scure. CNET consiglia inoltre di modificare altre impostazioni TV, come passare alle modalità Film, Cinema o Immagine calibrata e disattivare l'attenuazione del movimento.