House of the Dragon ha molto da disfare in pochissimo tempo. A differenza del suo predecessore che mostrava varie casate impegnate in guerre in tutto il Continente Occidentale, la serie prequel vede la casata Targaryen crollare. Quando si tratta di problemi familiari, ci vuole il suo dolce momento per prepararsi e quindi durante gli ultimi tre episodi, abbiamo già visto lo spettacolo fare due salti temporali separati.
Alla fine dell'episodio 2, "The Rouge Prince", vediamo Viserys ( Paddy Considine ) annunciare la sua intenzione di sposare Alicent ( Emily Carey ), figlia di Hand of the King, dopo di che vediamo Rhaenyra ( Milly Alcock ) scappare.
Mentre l'episodio 3, "Secondo del suo nome", fa un salto temporale di tre anni, c'è stato un dramma intenso che ha avuto luogo nel mezzo. Il regista Greg Yaitanes , che ha diretto gli episodi 2 e 3, ha condiviso alcune immagini sulle sue storie di Instagram che svelano un'accesa discussione tra Rhaenyra e Alicent e un'altra scena in cui l'erede al Trono di Spade sta aiutando la sposa di suo padre a prepararsi per il matrimonio.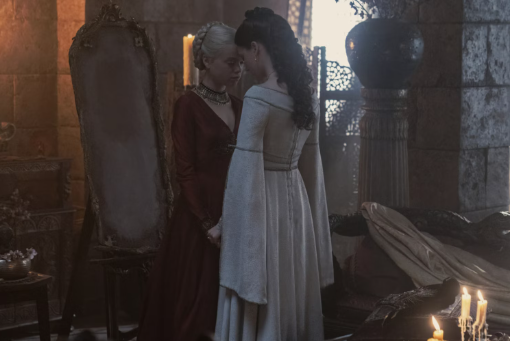 Condividendo le immagini della scena in cui Alcock e Carey sono coinvolti nella discussione, il regista ha scritto "Due scene che sfortunatamente non sono arrivate al montaggio finale, la lotta all'indomani tra @millyalcock e @theemilycarey – entrambe erano piuttosto potenti". Nell'immagine, possiamo vedere una Rhaenyra arrabbiata che affronta un'Alicent con le lacrime agli occhi. Guardando i loro costumi si può immaginare il combattimento seguito subito dopo che Rhaenyra si è precipitata fuori dalla piccola sala del consiglio.
Condividendo un'altra immagine in cui Alicent indossa un abito da sposa avorio completo di una grande tiara in piedi davanti allo specchio e si vede Alcock in piedi dietro di lei, il regista ha rivelato: "Questa scena rispecchiava la scena dell'episodio 1 in cui @theemilycarey stava vestendo @millyalcock — ora rovesciato dal dolore. Nell'episodio 1 vediamo una scena simile in cui Alicent aiuta Rhaenyra a prepararsi prima della cerimonia del suo nome. Mentre la principessa era piena di speranza in quella scena, nella nuova immagine vediamo il suo dolore per essere stata tradita dalla sua migliore amica.
Anche la truccatrice dello show Tania Tyatyambo Couper ha preso su Instagramper condividere alcuni primi piani di Alicent dal matrimonio, "Il vestito, i capelli, la tiara ….. un vero peccato che non sia stato modificato …. Taglio del pavimento della stanza … tempi tristi", ha scritto nel didascalia. Certamente, queste scene avrebbero offerto ai fan uno sguardo più intimo sul dolore e sulla rabbia di Rhaenyra e avrebbero aggiunto la dinamica familiare.