Una delle serie più attese di questo marzo è stata The Mandalorian. Il ritorno delle avventure di Grogu e Mando sulla piattaforma Disney+ (di cui potete vedere tutte le anteprime questo mese se seguite questo link) è ora disponibile a un capitolo a settimana.
Ma se sei uno di quelli che cercano informazioni su Internet sulla serie e ti piacciono i dettagli nascosti, abbiamo buone notizie poiché Google ha inserito un nuovo easter egg nel browser per commemorare il ritorno della serie.
Qual è il nuovo easter egg di The Mandalorian?
Google commemora spesso gli eventi con un doodle o una funzione nascosta nei propri browser. Questi ultimi si chiamano Easter Eggs o Uova di Pasqua che sono funzioni nascoste per gli utenti con le quali si attiva un'animazione o un gioco nascosto dall'azienda.
Come vi dicevamo, il lancio di The Mandalorian è stato un grande evento per l'azienda, tanto che gli hanno dedicato un nuovo segreto all'interno del motore di ricerca. Ora, se stai cercando informazioni sulla serie in questo momento, troverai niente di meno che una sorpresa nella parte in basso a destra del browser.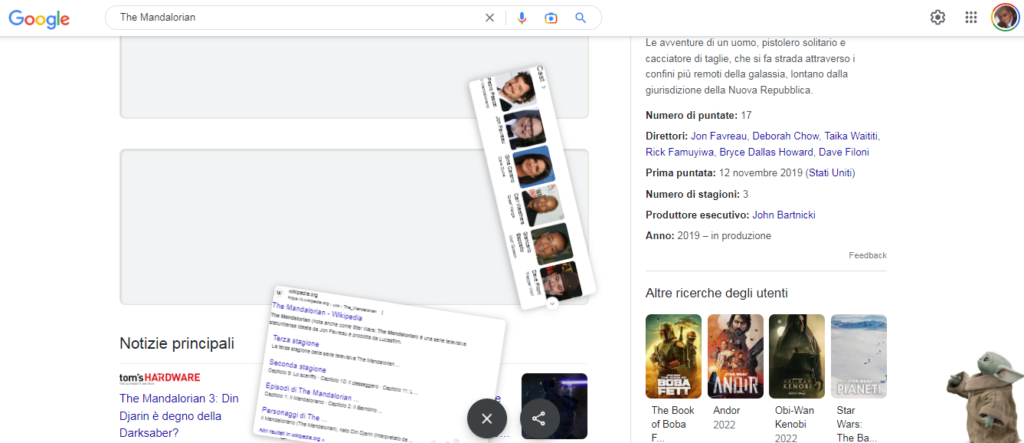 Vedrete che in fondo ci sarà Grogu, o Baby Yoda come lo chiamano ancora oggi in tanti, pronto a fare alcuni dei suoi scherzi che hanno dato a Mado più di un turbamento. Questa volta il personaggio interpretato da Pedro Pascal, che ha recentemente interpretato il ruolo di Joel in The Last of Us, non sarà vicino a impedirgli di ' distruggere' il tuo schermo una volta premuto il piccolo.
Ed è che usando la Forza, Grogu inizierà a muovere ognuno degli spazi sullo schermo, dividendoli in sezioni con le quali si muoverà, solleverà e poi getterà a terra.
Non è il primo easter egg di una serie quest'anno
Sono molte le serie che escono durante tutto l'anno e molte le aspettano con fervore. In questo primo trimestre ne abbiamo trovati due attesissimi da tutto il mondo come è avvenuto con The Last of Us e il presente The Mandalorian. Infatti, all'epoca abbiamo anche parlato dell'uovo di Pasqua che ha anche il nuovo gioiello HBO MAX , che è in grado di "infettare" il tuo computer se sai cosa cercare.